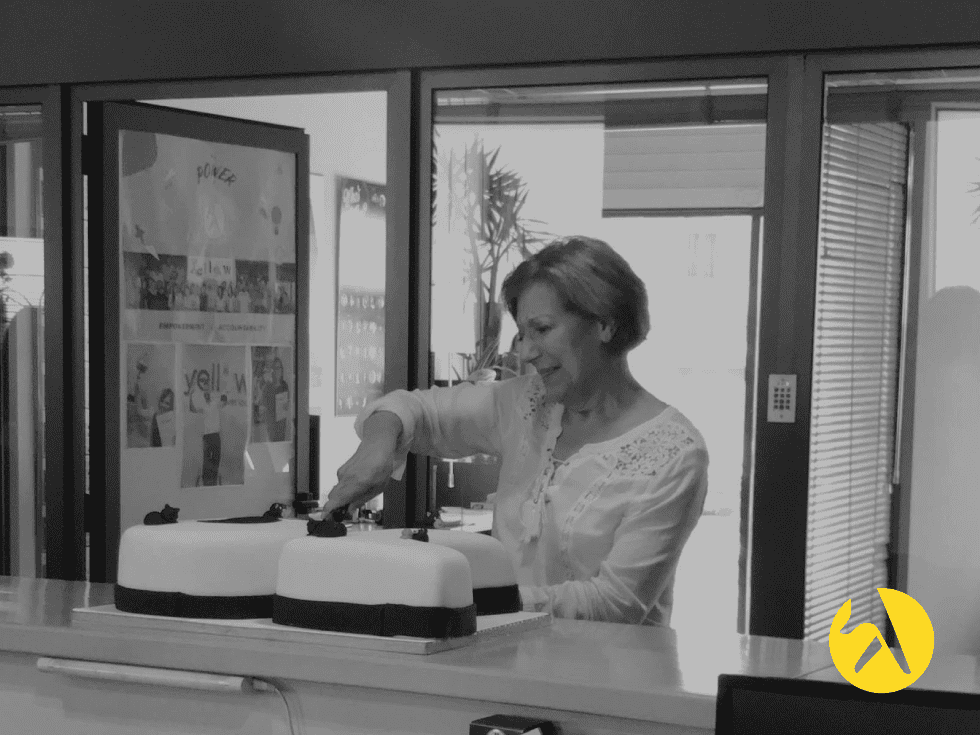 16/07/2019 0 Comments
Our cat lady turned 70!
This week we celebrated Carmen's 70th birthday with a delicious cake that paid homage to her beloved cats.
Carmen has been part of the Yellow family for the past 14 years and we wanted to thank her on this special day. During these long years of commitment, she has been and continues to be of great example and inspiration for all of us. With her kind-heartedness and caring approach to each one of us, she is a person who through the good and the bad, she always manages to put a radiant smile on her face.
One of us scribbled down also a lovely poem, listing what Carmen means to the Yellow family:
Għażiża Karmelina tagħna,
is-60ijiet għaddew ukoll u għalaqtilna s-70,
imma kollha l-istess ħsieb għandna,
"Kemm inkunu sew kieku nidhru bħalek, imqar meta nagħlqu 50!"

Iva Carm, kollox lura ħa tara jmur,
ix-xagħar ħa jibqa' jibjad u t-tikmix ħa jibqa' joħroġ, għada u pitgħada,
Imma taf x'naf ingħid żgur? Li l-qalb ħelwa tiegħek żagħżugħa għadha.
Issaqsi lil min issaqsi, kulħadd l-istess kliem.

Carmen tagħna titbissem biss taraha, filgħodu u flgħaxija,
Tbissima ġenwina, ħienja u mimlija sliem.
Miegħek bilfors tħossha komda kull persuna barranija.
"Tè? Kafè? Għidli x'nagħmillek ejja"

Kieku tista', il-kitla għal kulħadd tgħalliha!
Bit-tray fil-kuritur taraha għaddejja,
Par idejn sodi dik, m'hawn għaliha!

Jasal il-ħin tant mistenni tal-ikel, is-1pm daqqu.
"Ma ninqalax fil-kċina", tgħidlek,
Għalkemm tal-ġenn ikun jidher xogħolha.
Il-kċina tfewwaħha u l-ikel premju jkun ħaqqu,
Mimli nutrijenti, ta' kull darba u ta' eżempju għalina kollha.
U xi ngħidu fuq ix-xogħol?
Mara ħabrieka bħalek għad irrid nara.
Affarijiet ġodda lesta titgħallem ta' kull rwol,
U dedikazzjoni assoluta li faċli fik taraha.

Kif nistgħu ma nsemmux liż-żewġt itfal għeżież għalik?
X'imħabba ħelwa għandek lejn Shiba u Pringles il-mazza,
Nieħdu wisq gost nisimgħu fuq l-avventura ta' dawn il-mimmi t'għajnejk,
Speċjalment fuq Pringles li miskin fuq ħassa għaddej jgħix.

Carmen, ikolli ngħidlek li mhux żewġt itfal biss għandek,
Int il-mammina għażiża tagħna kollha,
U għalhekk nawgurawlek xewqat mill-isbaħ f'għeluq sninek,
U mħabba, ferħ u paċi matul is-sena kollha.
Feed